Is there actually a good tip for this? Let's see. We chose some of them that we think will make a difference and make it easier for you to decide. Of course, we always suggest contacting us before ordering (if you are in doubt). Maybe, our experience with brides through the years will help you.
When it comes to organizing the wedding day, the list with "must do's" gets bigger and bigger. In a lot of cases the bride must do most of them. Always make time for yourself! Choosing the dress is not easy, but it is very important. When you have the dress, the next step is to choose the hairstyle that will match your style and be perfect for your type of hair. That is another topic, but we always suggest a wedding hair trial or consulting your hairdresser. When you have chosen your favorite hairstyle for the Big day and you are ready to accesorize we can take over. We give you few tips how to choose jewelry:

* COMFORT COMES FIRST!
As much as it is important to look beautiful on your wedding day, you also want to feel comfortable with what you're wearing. If you usually don't wear a lot of jewelry, wedding day is not the time to experiment with big earrings or statement crowns. We offer you a lot of pieces that are not heavy to wear. You will dance the night away! Our earrings are made of crystals, glass pearls and metal findings. It wouldn't be nice if the bride takes off her earrings after one hour or so, would it be? Be practical with your choices and keep in mind that you will be wearing these for hours.
* DON'T FORGET WHO YOU ARE
Yes, fashion is important, trends are great, it may look great on you, but… If you don't feel like you it's not your piece of jewelry. Don't forget to be yourself! Try to give a little bit of glamour and sparkle to your wedding look, but don't exaggerate. Let your best self shine. Love will always be the best jewel you can wear!
* AVOID MULTI – COLORED JEWELRY
Too many colors of crystals can fully distract attention from the dress, unless the dress is simple and you want to make the statement only with your jewelry.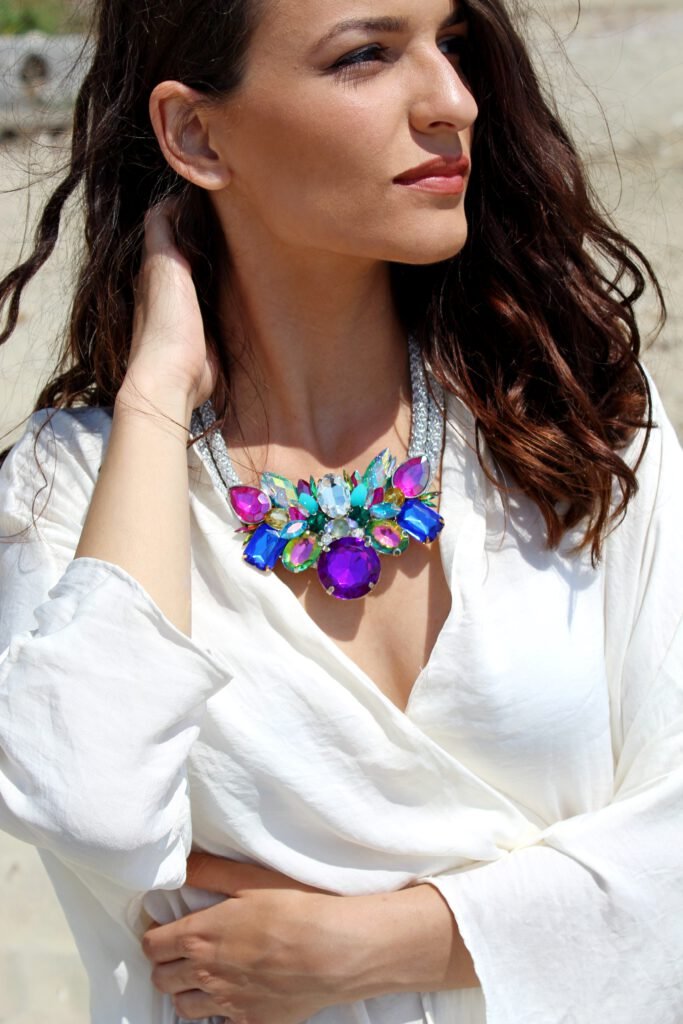 * MATCH METAL COLOR TO YOUR DRESS
Not sure which metal color to choose? It's always best to pick the metal with hues similar to the hue of your dress. Not all of the wedding dresses are white. The trends have changed in the last few years, and they have brought everything from white, ivory to rose, purple and beige – which would go best with yellow (gold) jewelry. Bright white goes best with silver, and some of the dresses with rose shades go best with rose-gold metal elements. Ivory dresses are practical because you can match them with silver and with gold metal and crystals.
*KEEP IT SIMPLE
if you are in doubt. If you are looking and looking and you love a lot of our pieces, but you can not imagine them on your hair or ears,… There is always a solution to pick or order something small and simple. Sometimes, all the elegance is in simplicity!
In the end, we suggest some of our models of earrings and hair pieces we are sure you will love.